Taste the craft:
our Nina Laffa's!
We are proud to present our newest addition to our product range: Nina Laffa medium and Nina Laffa cocktail. The Laffa medium fits perfectly into the food culture of the Middle East with vegetables, hummus and falafel. The Nina Laffa cocktail is perfect for (airline) catering, the gastronomy that focus on sharing food, and for restaurants that would like to expand their menu of smaller snacks.

The Nina Laffa medium has a diameter of 25 cm and a weight of 95 grams per piece. The Nina Laffa cocktail has a diameter of 6 cm and a weight of 10 grams per piece.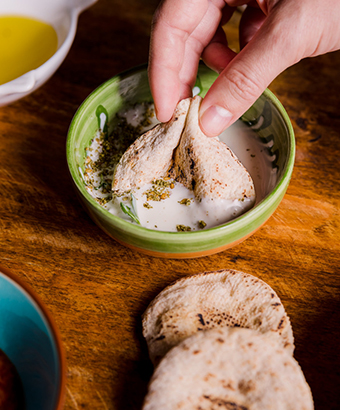 ---

Nina Bakery Europe is pleased to welcome you at the home of authentic pita & Arabic flat breads!
Fancy surprising your customers with a pita experience they haven't had before? With highest quality, entirely natural ingredients and exceptional taste and texture, Nina Bakery's unique pita is the ideal choice for foodservice and retail throughout Europe.
With a company history reaching back to 1936, Nina Bakery has been baking outstanding pita and winning loyal customers in Israel for over 70 years. In Europe, too, Nina Bakery's success is growing steadily. From our cold store in The Netherlands, we supply the entire European market. Our products range from round Nina one-bite up to Nina XL pita. Also breadsticks, oval and oblong shapes belong to our range. All products are available as wheat or whole wheat bread.
For more information have a look at the product page!
---
Everything we know,
is everything you taste.
As a leading producer of artisanal pita bread, Nina Bakery has created a wide and diverse product range, which opens up a world of possibilities for foodservice and retail applications and recipes.
In our latest brochure you can discover all about Nina Bakery. From our history reaching back to 1936, to the preparation of our products and our product range!
Discover Nina Bakery!
---

top